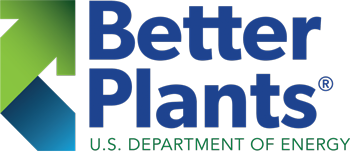 Virtual In-Plant Trainings
In-Plant Trainings (INPLTs) offered by the U.S. Department of Energy's Better Plants program are multi-day workshops performed by industry-recognized experts. INPLTs include both classroom and field-based training sessions that train the attendees to identify energy conservation opportunities, quantify savings from those opportunities, and implement projects to realize the energy and cost savings.
The U.S. Department of Energy's (DOE) Better Plants Program works with leading manufacturers to boost their efficiency, resilience, and economic competitiveness through making improvements in energy efficiency. Driving energy savings can have a broad impact across the industrial sector, which leads to cost savings, greater resilience, a strengthened workforce, and increased global competitiveness.
Manufacturing companies and wastewater treatment organizations partner with Better Plants, to set specific energy, water, and waste reduction goals, and commit to reducing energy intensity by 25% over a 10-year period across all their U.S. operations. Better Plants provides support in the form of technical assistance, tools, resources, and national recognition to help partners achieve their goals. Contact BetterPlants@ee.doe.gov for more information on how to join Better Plants program.